Hi there mighty beta testers :)
It's been 10 weeks since the beta version of Notism has been released. Many thanks to those of you who tested already and left so promising feedback. During the last couple of weeks we have been working on Notism night and day to improve based on your feedback and on our visions and we've come up with a big update we would like to introduce later on a bit more detailed.
For those of you who have been asking who is behind Notism: Notism has been developed by Hannes (HotGloo) and Jan (RH72), who have been working together as freelance web workers for years. In 2011 Jan also got involved in working at HotGloo for the redesign of the HotGloo website. Whilst reviewing screen designs with the other team members – the idea for Notism was born.
The problem we faced: it was so hard to review designs with others in an effective and efficient way.
The challenge: we wanted a tool where we can upload our design screens to review them within the team, gather feedback, get work signed off, add real copy to the designs and keep everybody involved in the project, most of the people scattered around the whole world, on the same page.
That's why we've created Notism.
A lot of people asked us about the difference between Notism and HotGloo. Notism is a team-communication tool where you can upload and review visual projects and designs with others. It is not a wireframe tool although you can link screens together to create a prototype out of static design screens as an add-on
The latest update includes:
DESIGN/LIST view:
Switch between Design and List view, depending on what you are focusing on – reviewing Design or communicating through feedback notes.
DESIGN VIEW: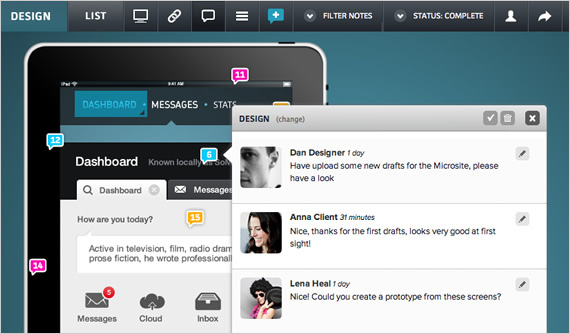 LIST VIEW:
ATTACH FILES :
Attach all kinds of files to your notes – makes it easier to communicate new ideas.
SCREEN STATUS:
Set up an activity status for each screen from "in progress" over "approved" to "complete" – to keep a better overview on what requires your full attention.
NEW DASHBOARD:
The new dashboard provides an overview across all project activities – never loose track again.
TASKS (Coming soon!):
With tasks you will be able to add to-dos to your projects – in order to get things done!
REPLY VIA EMAIL:
Reply to comments via email without logging into your account – especially handy when you are not in front of your computer but want to keep track of the project progress.
WHAT'S NEXT?
Features we are reviewing and discussing at the moment for future releases: Since we got a lot of friends in the motion design business we are also thinking about adding a way to discuss video and audio and a way to connect your Notism account with Dropbox and much much more.
Let us know how it goes using Notism. Is there anything you are struggling with? Any features you would like to see? Drop us a line.
Your team at Notism